Overview
As part of the Distribution of Influence Workstream, the Radicle Grants Org (RGO) will act as the guinea pig with OtterSpace badges to distribute voting power.
For more details, please reference the Temperature Check on OtterSpace here.
Current Process
Our voting hinges entirely on Gnosis Safe with 6 owners.
These 6 signatories must (a) review all grants and (b) reach quorum.
As we scale, 2 key issues will continue to grow:
Centralized Decisions: our decision will become increasingly centralized relative to the number of grants. It would be better if we had more eyeballs, minds, and votes weighing in on Grant funding decisions.
Quagmire of Governance: on-chain voting can create a quagmire in governance when a vote is started and quorum is not met. Finding a way to easily gather input from many parties (off-chain) before finalizing (on-chain) would be better.
Proposed Process
Upon sending out badges, we will follow the 2 step process for voting, right-hand side below: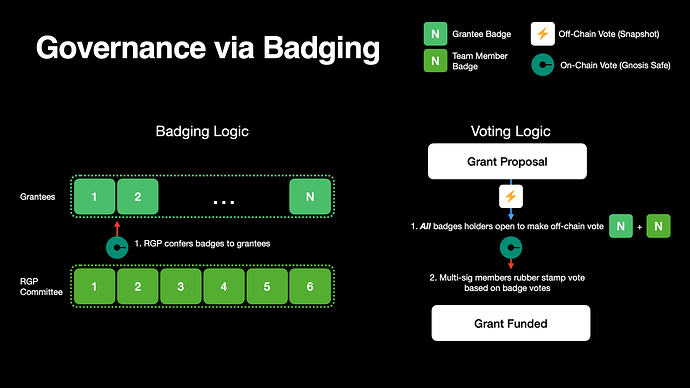 We will be distributing OtterSpace badges, which are non-transferrable tokens (NTTs), which confer voting rights within Radicle Grants.
For testing purposes, we will be running these votes on the Optimism Network.
1. Off-Chain Vote (Snapshot)
The distributed voting will take place on Snapshot. The RGO page can be found below:
https://snapshot.org/#/radiclegrants.eth
We will have 2 types of badges:
2. On-Chain Vote (Gnosis Safe)
The finalized voting/funding will take place on Gnosis Safe. The RGO safe can be found below:
Caveats
We may not testing this on 100% of grant applications. We may reserve it for select, larger grants where broader input is beneficial.
Some details above are subject to change as we continue testing and iterating.
Timeline
Short-Term (2-4 weeks):
Onboard all contributors to badges (RGO Team Members + Grantees)
Setup voting policy on Snapshot
Create dummy test proposal → demonstrate proof of concept
Medium-Term (1-2 months):
Select 5+ larger grants to use this process on
Create write-up outlining learnings + proposals for wider adoption
Long-Term (3-4 months):
Migrate from Optimism to Ethereum mainnet (pending OtterSpace launching on mainnet)
Onboard the rest of RadicleDAO
Useful Links
You can find more documentation below:
Badge Management: technical notes on getting setup from A-Z. Notes here are transferrable to any other sub-DAO within Radicle.
Badge Onboarding: tutorial on how badge recipients can receive their badge. This is fairly easy and also transferrable to other use cases.