DevNode
Project Name: DevNode
Team Name: DevNode
Payment Address: TBC
Level: Seed
Project Overview
DevNode is an open source code and data stackoverflow focused on smaller community peer group dynamics that we've seen in DAOs.
Devnode is working to improve the tooling for developers trying to learn in web3. Developers want support as they try navigate the fast changing landscape in web3 and we've seen trends that we're trying to drive further.

The majority of developers do not feel comfortable posting to stackoverflow as they feel there is a high bar for questions that are worthy of the community's time.
Peer groups are meeting and learning together online and would benefit from better tooling and ways to interact with other communities to share knowledge and support. We've seen this in value, mission, and incentive aligned micro communities such as DAOs and cohort based programmes like buildspace and on deck.
The communities focused on product and protocol, and infrastructure are keen to support those that are trying to learn.

We aim to use ethereum mainnet, popular layer 2s, the graph, ceramic, and radicle network as key parts of the experience.
Our team formed in developerDAO and saw many of these supportive dynamics between both members of the DAO and from other projects that need to educate developers.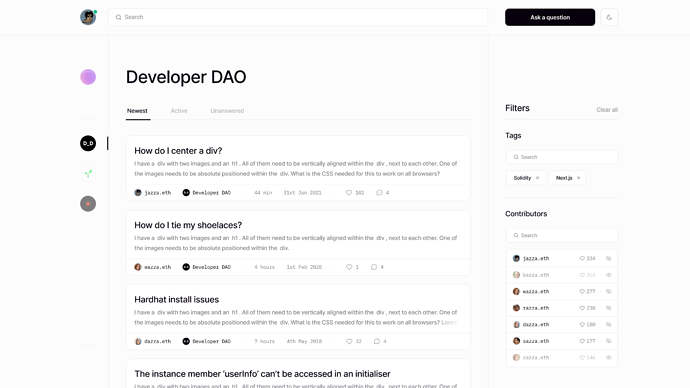 Team:
Team members
nassar - growth and product - UK
James (jazza) - product design - UK
Martin (embiem) - full stack web3 dev at Heroic Story - Germany
MartinB - frontend engineer - South Africa
Ezekiel (Azephiar) - entrepreneur and engineer (ceramic experience) - Netherlands
Contact
Contact Name: Nassar Hayat
Contact Email: nassar@radicle.xyz
Team's experience
Please describe the team's relevant experience.
Nassar has been actively contributing to the marketing and business development guild in developerDAO and so is able to bring together DAOs that are keen to work with a platform that helps educate their communities.
James is the design lead in multiple developerDAO projects, most recently the $CODE claim site. Previously he was designing and building apps in the fitness space.
Martin helped develop the $CODE claim site and contracts of D_D and has been working 6+ years with web technologies. Some other public projects include: NFS Heat Studio app, Chiastatus & the React Canvas Draw OSS component.
Team Code Repos
Project Description:
website: https://devnode.network/
DevNode is a community of developers that came together online to build an open source toolset to support developer education. We aim to use radicle protocols and believe that our missions are very aligned. We want to build out the MVP of this tooling in order to test our assumptions on the market, new DAO dynamics, and our platform.
Deliverables:
Please list the deliverables of the project in as much detail as possible. Please also estimate the amount of work required and try to divide the project into meaningful milestones.
Total Estimated Duration: 4 months
Full-time equivalent (FTE): 66 days
Total Costs: $50,000
Milestone 1 - prototype
Objective: test out core decentralised tech stack.
Estimated Duration: 2 months
FTE: 20 days
Costs: $15,000
| Deliverable | Specification |
| --- | --- |
| onboarding | allow users to authenticate with ethereum wallet and use IDX for identity |
| add question | add question flow with question, technology tags |
| question page | page that shows questions and answers |
| add answer | input answer and submit |
| discovery | home page that allows developers to discover, search, and filter questions |
Milestone 2 - MVP
Objective: Test whether we can pull more people to support with questions and challenges faced by individuals in a micro community by adding more structure and sharing these questions across communities and platforms. Initial test base will be 5 communities.
estimates
Estimated Duration: 4 months
FTE: 46 days
Costs: $35,000
| Deliverable | Specification |
| --- | --- |
| groups | ability to create micro communities and then when you post questions it can either be shared publicly, all the communities you're in, or specific selected ones |
| group page | page that allows dao members to see a feed of questions and answers from their members. Also allows them to see a leaderboard for their members. |
| discord write bot | give server managers way to setup bot which posts all DAO member and relevant technology related questions to channel |
| answer vote | allow users to vote on answers |
| dev page | profile page for developers with history of questions, answers, DAO memberships, DN reputation, radicle network developer contribution data |
| reputation system | display DAO and technology tags they've contributed to with questions and answers and a score based on responses/votes |
| leaderboard | global leaderboard for those that contribute questions and answers |
Future Plans
The aim is to launch this project in partnership with 5 top web3 DAOs as partners. Radicle, DeveloperDAO, and Ceramic being the first three.
We also aim to raise further funding from the other DAOs we choose to partner with.
Documentation and SDK to allow other interface to leverage and contribute to the data in the devnode network
There are a lot of ideas flying around on how we can improve the learning experience within these micro communities and across them. We've tried to keep the MVP as bare bones as possible to focus on testing our core hypotheses.
Additional points
DevNode is a great experiment in truly internet native DevDAOs. This project is being built by a community of developers that met online to build open source software, funded by grants, and contributors rewarded by a collectively co-ordinated treasury. This should allow the radicle ecosystem to get into the weeds on what works and what doesn't across the lifecycle of these new orgs.
Also, nas will be abstaining from voting on this proposal as both the lead on this proposal and a grants committee member.
We welcome input and challenges from the ecosystem. Particularly Phinton.