Drips Widget - Proof of Concept
Status: Open
Proposer: @bordumb
Your Project(s): [optional]: Radicle · GitHub
Projects you think this work could be useful for [optional]: everything worth paying for online.
Teams/People that could deliver the RFP [optional]: Looking…
Project Description
Embeddable widget that allows any creator to bring crypto-based subscriptions/membership to their website using Radicle.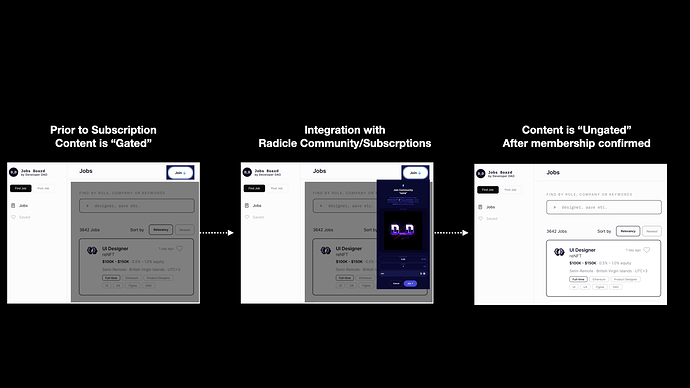 Similar to front-end widgets implemented below:
The vision for this product is BIG.
We could see it being used by any sort of creator, including but not limited to:
Writers and Publishers (e.g. substack like subscriptions)
Video makers (e.g. a "YouTube" for web3)
Music services (e.g. a "Spotify" for web3)
What else can you think of?
The main goal here is to abstract Radicle Drips such that it is integrated with anything online worth paying for. In essence, make it accessible to non-technical people.
Note: the goal is not to add to the backend (yet). No smart contract work is needed. This is focused on a front-end solution.
Deliverables
Total Estimated Duration: up to 6 months (negotiable; please see Milestone sections)
Full-time equivalent (FTE): 1
Total Costs: roughly 28,000 USDC
Milestone 1
Estimated Duration: 2 weeks
FTE: 1
Costs: 6,000 USDC
| Number | Deliverable | Specification |
| --- | --- | --- |
| 1. | Market Research | Comprehensive and documented market research |
| 2. | Wireframe | UI/UX Design |
| 3. | Engineering Plan | Map out the high level milestones listen below in much more detail |
Milestone 2
Estimated Duration: 1 month
FTE: 1
Costs: 12,000 USDC
| Number | Deliverable | Specification |
| --- | --- | --- |
| 1. | POC | Widget that works on any site/device |
Milestone 3
Estimated Duration: 1 month
FTE: 1
Costs: 12,000 USDC
| Number | Deliverable | Specification |
| --- | --- | --- |
| 1. | POC | Token gating mechanism that (a) reads NFT membership and (b) either allows or rejects users to view content |