I am running a seed node w3m
hynigj3cxods3uairkx143icaroxzetggbpgui5e8zhex4zggpo9wg@seed.w3m.one:12345

How can I make my seed node appear online on seedling.radicle.xyz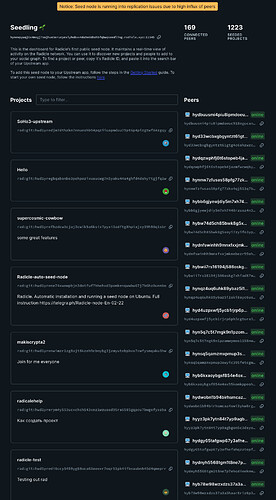 Same question here
I am running the seed node
hybjf6oj1ntam6731i3bai4g5yugg7wmzahn38ar9bc5npqd58p6gg@seed.my.org:12345
Able to add it in Radicle Upstream.


Not appear on seedling.radicle.xyz
This is because you need to make sure that the hostname you give, in your case seed.my.org is owned by you, and that the IP address the A record for seed.my.org resolves to points to your address.
hyn5qu9jidg96wukkqmcn344rc9bf14451hh51bs5pdidicuz4feo4@119.247.183.185:12345
Thank you, I set a new seed node , can anyone to add this custom seed node ?
How to resolve:
Find public address

Port forwarding
Login to your router and add port forwarding for protocol UDP and TCP according to Radicle Documentation
Hi
I started the node, but I'm trying to figure out now, how do I know that it works correctly? do I need to add my address somewhere? Tell me good people ))
hyyizo1h61ugs9xei6go6btyhxgjh6ynzx8gh9k4yijit3t49pebh4@167.179.106.235:12345
hybjozdi5f4nm8jiqsid4tacmnnbcywtgipt65rmwp3pfmkabj6gqs@45.32.155.69:12345
hyb1fmepsqh3bbhnzudhw56b39isef6e3e45mwwc3dd6obb1eud191@139.180.133.213:12345