Radicle Grant Application
Project Name: Webchain
Team Name: Webchain
Payment Address: 0xab8A95f711f9B85898BDd1D405F2ffF9ce8CeC64
Category: Radicle Adoption
Level: Seed
Project Overview
Webchain is the communication layer for web3. It makes it possible for people to communicate in a crypto-native way. The platform consists of two parts:
An open-source, multi-chain protocol for sending encrypted messages between blockchain wallet addresses.

A simple, unified inbox application that makes it easy for users to view and send messages using the protocol and to keep track of their on-chain activity. It's just like using email.
People often need to communicate in the context of their wallet or blockchain identity. Communication may be related to their transaction history, web3 activity, or some type of important notification.
Use cases include trade receipts, transaction confirmations, peer-to-peer social messages, community updates, and other on-chain events.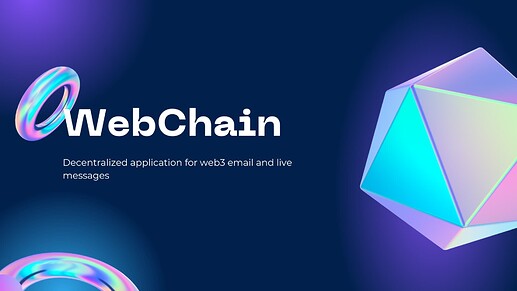 Team
Team members
Decent Okeh
Jordi Piñana
Name
Contact
Legal Structure
Registered Address: Not a registered legal entity
Registered Legal Entity: Not a registered legal entity
Team's experience
Please describe the team's relevant experience.
Decent Okeh: I have spent the last six years developing my skills as a web3 developer, where I have won several performance awards and been promoted twice. I love managing teams and solving customer problems. I've contributed to and managed numerous projects, and used my experience to make some.
I've been working in blockchain since 2017 and started exploring messaging & communications in blockchain ecosystems in 2018. In 2022, I was more interested and eager to apply my skills and contribute to the decentralization of web3, and in doing so I wanted to see how Web3 could offer a safe, private & trusted way to communicate.
Jordi Piñana: Software developer with 4y of experience in Blockchain programming. He is also teaching at the Polytechnic University of Catalonia blockchain master's degree program.
Jordi Moraleda: Senior full-stack engineer. He is heavily involved in the architecture, research, and integration of the components that make things possible. Integrated and validated zk-SNARKs on mobile devices to generate proofs within a matter of seconds. He is also in charge of the UI and smart contract components of the platform.
Team Code Repos
Team LinkedIn Profiles (if available)
Project Description
Web3 provides no standard way to handle communication. Some applications work around the problem by asking users to link another method of contact (e.g. email address, phone number, etc.) to an application. This compromises privacy by asking users to link or reveal an identity. Keeping track of valuable, relevant information, such as NFT mints, DeFi positions, and DAO votes across these channels can become overwhelming, confusing, and pose a privacy risk. Radicle also uses a web2 means to handle communication.
Webchain acts as your web3 inbox, receiving messages in the context of your identities. Digital art-related messages get sent to your digital collector identity, gaming-related notifications get sent to your gaming identity, and DeFi notifications get sent to your DeFi identity. Webchain gives you the power to communicate and maintain privacy at the same time.
Deliverables
Please list the deliverables of the project in as much detail as possible. Please also estimate the amount of work required and try to divide the project into meaningful milestones.
Total Estimated Duration: 4 months
Full-time equivalent (FTE): 66 days
Total Costs: $50,000
The more you can organize your milestones into manageable chunks that are conducive to iteration, the better!
Milestone 1 - Prototype
Please add additional milestones in the same way:
Estimated Duration: 2 months
FTE: 40 days
Costs: $30,000
| Number | Deliverable | Specification |
| --- | --- | --- |
| 1. | Initial back end | we will experiment with various decentralized back end architectures for storing user data |
| 2. | initial front end | Creating the user interface to interact properly with Webchain |
|Expanded UX|  include NFT profile integration, counters, uploading, swipe, and search style|

| 4. |Expaded back end | support user profile i.e blockchain address, ENS, media uploading, media metadata, NFTs, swiping, searching, likes, 1:1 email, group messages, etc|
5. |Web and extension interaction | optimizing our website, extension, and SDK to increase its visibility and effectiveness, also making use of web analytics software |
6. |Initial MVP deployment |Deployment of the prototype (BETA)|
Milestone 2
Please add additional milestones in the same way:
Estimated Duration: 2 months
FTE: 26 days
Costs: $20,000
| Number | Deliverable | Specification |
| --- | --- | --- |
| 1. | Implement super-like functionality | This involves the implementation of group pages, reputation system, answer and voting, dev page, leaderboard, and more interactive features after the feedback from the beta version |
| 2. | Reputation system | these involve contributors, influencers, and DAOs, all would be recognized |
| 3. | Rewardsblockchain transactions | Webchain users will be able to give rewards, and inform of NFTs and crypto to everyone |
| 4. | Groups | ability to create micro-communities and then when you post it can either be shared publicly, all the communities you're in, or specific selected ones |
| 5. | Increase engagement and awareness | We will create a running blog where I'll post helpful content related to projects like this one - web3 product development and testing -. social media marketing |
| 6. | Windows and macOS client | Develop and launch Webchain clients for windows and macOS |
| 7. | V1 deployment to main net | Deploy to main net |
Future Plans
Please include the following:
How do you intend to use, enhance, promote and support your project in the short term
The team's long-term plans and intentions about it. In other words, how will it be made sustainable?
The aim is to launch this project in partnership with 5 top web3 DAOs as partners. Radicle will be one of them.
We also aim to raise further funding from the other DAOs we choose to partner with.
Documentation and SDK to allow other interfaces to leverage and contribute to the data in the Webchain network
There are a lot of ideas flying around on how we can improve the learning experience within these micro-communities and across them.
Web3 is the future and Webchain is part of that future, one way to achieve sustainability is by continuously working with contributors to this open-source project. and lastly, fees for high-volume senders will also be used to add to the sustainability of this project.
Additional Information
How did you hear about the Grants Program? Medium
Here you can also add any additional information that you think is relevant to this application but isn't part of it already.
Webchain is a great experiment in the Web3 space, bringing peer-to-peer communication to life. This project is being built by a community of developers that met online to build open-source software, funded by grants, and contributors rewarded by a collectively coordinated treasury. This should enable the Radicle ecosystem to examine the specifics of what functions well and poorly during the project life cycle of these new organizations.

My initial priorities are user experience, security, and supporting user-owned identity and data. Webchain will then decentralize its protocol functions with an incentivization structure that encourages members of the community to participate in running infrastructure. (DECENTRALIZATION)

Webchain's economic model is designed to be sustainable. It provides a "public good" quota of free messages for human users ensuring anyone can have access to secure, private communication at no cost. (ZERO GAS FEE) But the model also supports the protocol and its infrastructure providers through message fees for high-volume senders. Fees are targeted to be below $0.005.

Web2 users (such as Twitter/Facebook) can download the extension or access the SDK, and start communicating on the Webchain embedded application on the Web2 platform.

This project is going to be 100% open-source
List item