Project Name: Proposal Inverter (Prime Flow)

Team Name:PrimeDAO

Payment Address:
eth mainnet :0x954Ccb8E7828e29246740E29F02efba1de0467BE
- [Level]:

-Tree
Proposal Inverter Meta Proposal: PrimeDAO Proposal

For Radicle Grant
*Meta proposal is a proposal where grant reviewers can see all the necessary information such as product reviews, user stories, team accountabilities and involvement scope of each party.
An indication of how your project relates to / integrates into Radicle
We are very excited to collaborate with the Radicle team as Proposal Inverter incorporates the Radicle Drip's backend mechanism for funneling the funds within the Proposal Inverter. As stated in the Meta-proposal above;
"The proposal inverter inverts the DAO-proposal relationship. Such that, instead of having many proposals for a single DAO, we will have many DAOs for a single proposal. Through a fund funneling mechanism that continuously "drip" funds according to pre-negotiated contracts, the "inverted" proposal will be funded in a semi-automated manner."
The Drip and Split mechanism have a perfect use case for creating this pre-negotiated fund funneling for allocating funds for proposal contributors as this action requires continuous drip of funds to the common pool then be splitted to different stakeholders. We believe the proposal inverter will be the main catalyst for drips adaption across the DAO space for running collaborative fundings and joint ventures. We are integrating drips into the emerging DAO to DAO ecosystem as a fundamental mechanism that can be further utilized by ecosystem participants.
As one can see the Proposal Inverter and Radicle Drips share common goals and aligned ethos. The "Introduction to Drips" article stated "…(Radicle) believe that sharing funds through Splits has the potential to become a new cultural norm in crypto and a fundamental building block for solving difficult problems like the funding of public goods and promoting more redistributive crypto economics.", very aligned with what Proposal Inverter envisions to reduce collaborative effort between DAO to DAO relationships and by that it tried to nourish the public goods ecosystem. With this collaboration, we will provide a critical tool to the public goods ecosystem.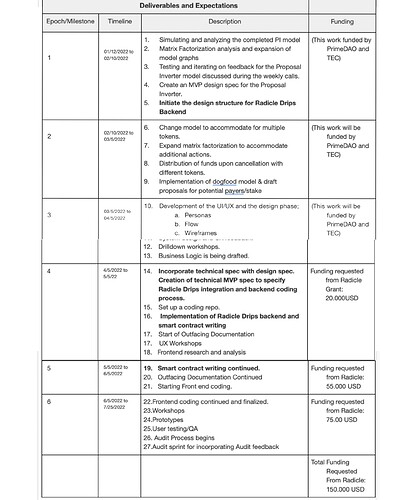 The original version of this table can be found in Meta-proposal above. ( Sorry for the image quality, the forum only allows me to have 1 photo.)
Future plans
In the short term our building partner, Token Engineering Commons will be accountable for the marketing, documentation, and communication side of the project. Along with those efforts, PrimeDAO's pioneer position in the DAO to DAO ecosystem will help our team to integrate Proposal Inverter into this growing D2D ecosystem and make it heavily adopted. Through those efforts, Proposal Inverter would likely become a pivotal tool for DAO to DAO coordination. Regarding our future plans with the Radicle team and drips mechanism, as the community of builders behind the proposal inverter, by integrating drips backend and working around expanding the protocol's architecture, it will also be a hub for pushing toward utilizing drips as a composable primitive for funding public goods, such as integrating quadratic funding, utilizing the sitting assets in the drip reserves for revenue generation, creating decision-making mechanisms around the that dripped funds, etc.
The development process of the PI will bring a wave of developers towards becoming familiar with the drips infrastructure. There will be a co-promotion process between Radicle and many other DAOs involved in this collaborative effort such as Gitcoin, PrimeDAO, TEC, and Longtail. The collectively joint marketing potential for this process is a very powerful force and will lead to some major disruption across the DAO space.
Contact
Contact Name: Mert Ozdal

Contact Email: mert@prime.xyz

Telegram: @mertozdal6
Team Code Repos
Team LinkedIn Profiles (if available)
Alp Ergin: https://www.linkedin.com/in/alp-ergin-401a9883/
Shawn Anderson: https://www.linkedin.com/in/shawnwanderson/
Mert Ozdal: https://www.linkedin.com/in/mert-ozdal-9a2789213/
Jeff Emmet (Advisory): https://www.linkedin.com/in/jeff-emmett-05268139/