Project Name: DAOstar One
Team Name: DAOstar One
Payment Address: 0x24c492413fCfd5a8370F43f69205563C3D39Cc5d (USDC)
Level: -Seed
Project Overview
Project name
DAOstar One
Summary
$20,000 to fund an ecosystem collaboration around interoperable DAO standards, as part of a co-funding round led by key organizations in the DAO ecosystem.
For Radicle, the recently published EIP-4824 DAO standard, along with related tooling and reference implementations, will help improve Radicle DAO's discoverability and legibility to new members. Further, members of Radicle are also directly participating in working groups such as the DAO identity working group, helping to produce research and collaborations that will support projects like Drips and Radicle Orgs in finding product-market fit.
Team members
Joshua Tan (project leader)
Isaac Patka
Ido Gershtein
Michael Zargham
Eyal Eithcowich
Sam Furter
Auryn Macmillan
Ivan Fartunov
Kei Kreutler
Nathan Schneider
Contact
Contact Name: Joshua Tan
Contact Email: josh at metagov dot org
Website: metagov.org
Legal Structure
Registered Address: 20 Amory Street, Brookline MA 02446
Registered Legal Entity: Metagovernance Project, Inc.
What project are you building
DAOstar One is a roundtable of key organizations in the DAO ecosystem working to build interoperable standards for DAOs and DAO tooling.
Its forty-nine current member organizations include every major DAO framework, a large number of DAO tooling developers, and many major DAOs. Individuals participating include over 20 CEOs/founders and many well-known leaders and researchers in the field.
Why did you decide to build it
A group of DAO folks from Aragon, Moloch, Gnosis, Abridged, Tally, and Metagov were chatting at MCON 2021 and someone asked, "wait, hasn't someone already built a standard for DAOs?" When we realized that the answer was "no", we decided to start building it. The roundtable emerged out of the effort to build the standard.
There are lots of reasons for a DAO standard. The current EIP working paper outlines a DAO URI and JSON schema, similar to tokenURI, with several immediate use-cases, including DAO discoverability, legibility, and proposal simulation. Additional working groups within DAOstar One focus on multi-chain standards and on identity within DAOs.
DAOstar One, as an organization, is committed to producing, governing, and supporting interoperable standards for the DAO ecosystem. As a neutral industry body, it also supports education and research around DAO use-cases, the development of DAO reference implementations, and other public goods within the DAO ecosystem as called for by its member organizations. We built it to house the first DAO standard, but we believe it has an important role in coordinating the fast-growing DAO ecosystem.
How long will it take
We released the draft DAO standard for EVM on Feb. 12, 2022, and officially launched the EIP and the website at ETHDenver / Schelling Point (video of launch). We will host a series of community calls and public workshops to obtain feedback on the EIP through Q2 2022, after which we hope to finalize the EIP as an ERC standard. To support the standard, we also plan on releasing tools to make compliance easier, including reference implementations, prebuilt endpoints, templates, and documentation for all the URIs recommended in the standard.
In terms of future standards, we plan on drafting a multi-chain DAO standard immediately after ETHDenver (the EVM standard is written with multi-chain in mind), and have brought in representatives from the Interchain Foundation (Cosmos), DAODAO (Cosmos), AstroDAO (NEAR), ADAO (Cardano), and others to begin this conversation. We also plan to convene a working group including Spruce, Sismo, Lit Protocol, Superdao, kycDAO, and the DID Foundation to explore identity and verifiable credentials in DAOs, which we decided was too controversial to go into the first DAO standard.
The roundtable itself is administered and fiscally-sponsored by Metagov, a nonprofit research collective. We plan to convert it to some form of DAO-based governance by the end of Q2 2022, and then progressively decentralize over the course of 2022 and 2023.
How much funding are you requesting
$20,000. This is intended to be part of a co-funding round supported by several key organizations across the DAO ecosystem.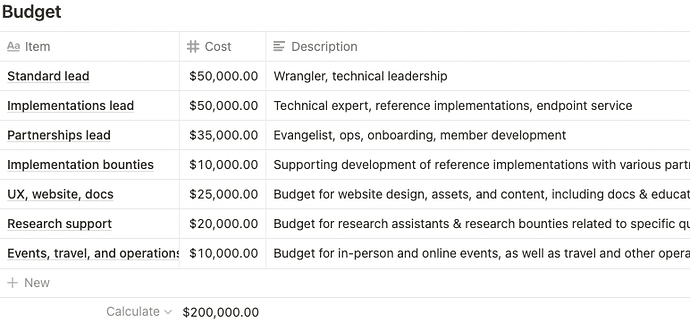 If we raise funding beyond the identified budget, we will prioritize additional funding to the endpoint service, implementation bounties, research support, and the DAO contract. In the event of a budget shortfall, we will prioritize finishing the EVM standard, multichain standard, initial reference implementations, and website.
Why fund this?
Standards are an important public good for the DAO ecosystem because they:
make development easier for DAO creators and contributors,
lower the cost and risk of building and investing in the DAO ecosystem for companies and investors, and
support industry collaboration and coordination in other contexts such as education, regulatory compliance, and research.
However, standards require wrangling to bring key organizations to the table, technical leadership that can shepherd working groups on a timely basis, marketing and advocacy to promote adoption, and organizational support to produce docs and other educational materials.
Further, we believe that a neutral industry body such as DAOstar One brings important benefits for the emerging ecosystem even apart from the standards that we produce and govern. DAOs are still relatively immature, and there are many potential failure modes for the entire industry: getting out-competed on usability by Web2, getting co-opted by big tech or government, losing the narrative and mainstream appeal after too many scams, bad actors, and shoddy projects. We believe that the DAO ecosystem as a whole can navigate these risks better if its members and builders can coordinate and work together. DAOstar One is an expression of that belief and a mechanism to realize it in action.
Risks and potential delays
As technical research projects, standards take a long time to create and adopt; in the time that it takes to ship a standard, industry practices and needs may have already moved on. However, DAOstar One has a track record of moving fast: the most recent EVM standard took only 4 months from conception to public draft. And our wide member base helps us identify standards that will be widely used.
Standards also have a tendency to proliferate. As the first mover in the DAO standards space and as a neutral body without a profit motive, DAOstar One is in an excellent position to produce and curate canonical standards that can be adopted across the DAO ecosystem.
Success
We will measure the success of the project by the number of DAOs that adopt the standard, the number of companies and protocols supporting the standard, and the amount of total investment into all DAOs and DAO companies (whether or not they are part of the roundtable).
Timeline, Milestones and Deliverables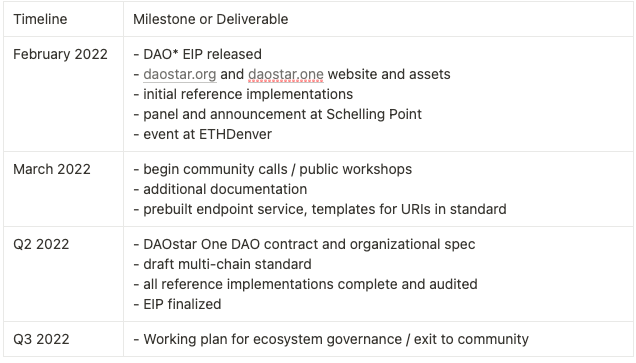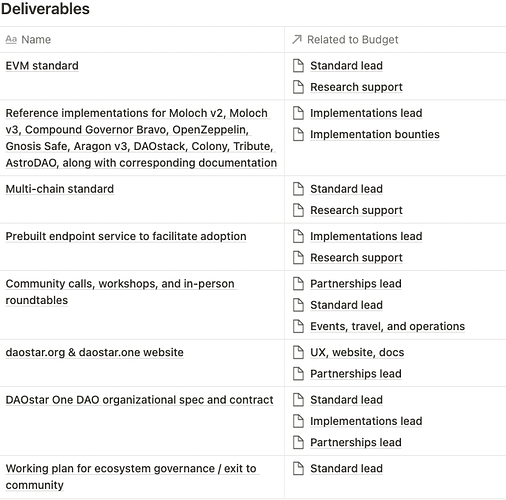 Team description
Joshua Tan is a mathematician and computer scientist at Stanford, Oxford, and Metagov whose research focuses on applications of higher mathematics to the design of intelligent systems. He is founder and executive director of Metagov, a nonprofit research collective that builds standards and infrastructure for digital self-governance. He is also an executive editor of Compositionality, a peer-reviewed journal, and editor of Applied Category Theory, a book series published by Cambridge University Press. He was formerly an entrepreneurial fellow in the MIT math department and a consultant at NIST.
Isaac Patka is a developer and founder in the DAO space. He is a core developer in the Moloch Mystics building Moloch v3, and a member of DAOHaus where he built DAO composability tooling to enable Moloch v2 DAOs to directly control Gnosis Safes through Zodiac modules. He is the co-founder of Minty, a framework-agnostic DAO furthering the adoption of Web3 governance in IRL communities. He was formerly a developer in the Decentralized Identity space developing taxonomies and tooling for Verifiable Credentials.
Ido Gershtein is a researcher at DAOstack and a developer in the DAO space, focusing on the design of DAO frameworks and tooling.
Michael Zargham is a control systems engineer (PhD '14 UPenn) and mechanism designer at BlockScience, WU Vienna and Metagov whose research focus is dynamic resource allocation policies, with an emphasis on the interplay between algorithmic policies and human behavior in internet native institutions. He is the founder of BlockScience, an engineering firm focused on design, development, monitoring and governance of digital infrastructure. He is the architect for the open source project cadCAD, and a member of the NumFOCUS advisory council. He has contributed materially to a range of DAOs, most notably Commons Stack, SourceCred, Token Engineering Commons and 1Hive.
Eyal Eithcowich is founder and CEO of DeepDAO. Eyal is an experienced product and software leader both in the U.S. and Israel, and in a previous lives a journalist, a filmmaker, and an activist. He fell in love with DAOs in early 2018 and, realizing the potential to democratize the way people coordinate, jumped in and never looked back.
Sam Furter is an engineer participating in the Web3 space since day one. He created a governance framework called Harbour Project with his friend and later contributed to the JavaScript team at the Ethereum Foundation, where he led the development of web3.js. Currently, he works on Aragon's next generation DAO framework and sees a lot of potential to change commonly-known social paradigms with DAOs.
Auryn Macmillan is a DAO-obsessed self-taught Solidity developer and mechanism designer, bent on enabling better tooling for collective ownership and decision making, with lower barriers to access. In 2021 he co-founded Gnosis Guild, creators of the Zodiac standard for composable DAO tooling. In his spare time, Auryn contributes to a permissionless quadratic funding protocol, CLR.fund, and in a past life he earned an MSc in Psychology and Research methods while playing professional basketball.
Ivan Fartunov is a former physicist and financier pushing for more collaboration in the creation of coordination tooling, and is currently Head of Ecosystem at Aragon. Previously, he professionalized CeFi, built ecosystems in the Middle East, and worked in sustainability in Europe. He is excited by pragmatic solutions to complex problems.
Kei Kreutler is a writer, artist, and developer interested in how cultural narratives of technologies shape their use. Since 2017, she has led strategy and communications at Gnosis, and in 2021, she co-founded Gnosis Guild, creators of the Zodiac open standard for DAO tools. She contributes to Other Internet research group and sits on the Board of Regen Foundation.
Nathan Schneider is an assistant professor of media studies at the University of Colorado Boulder, where he leads the Media Enterprise Design Lab. He has written several articles on crypto, including "Decentralization: An Incomplete Ambition" and "Cryptoeconomics as a Limitation on Governance." His most recent book is Everything for Everyone: The Radical Tradition that Is Shaping the Next Economy.
Additional comments