Project Name: DAO Blocks
Team Name: RnDAO
Payment Address: 0x4A62ec005ad047FfE3Ab7828f050aD531DC86891
Level:

-Seed
Project Overview
DAO Blocks – A framework to shape better DAOs
DAO Blocks framework aims to collect the ingredients (the effective structures and concepts) and craft recipes for new, upcoming, or existing DAO teams to work with (either following several recipes or gathering inspiration to create their own version).
After spending some time in the Radicle discord and reading through the core governance topics, it is increasingly clear to the RnDAO team that 'transitioning to a DAO' is a core component driving Radicle's vision. It is in line with the increasing path towards decentralization of Radicle, where the management of decentralized networks needs to move away from the Foundation to the DAO (which will be governed and managed by the DAO Treasury). Considering this impending shift towards a DAO, our DAO Blocks framework will provide Radicle with the insights, knowledge, and actionable recommendations on how to map the current and future state of the Radicle DAO. We will aim to build the DAO Blocks Framework live within the evolving Radicle community structure and using data from existing and emerging DAOs, and thereby providing key insights to the Radicle governance team on how to shape the DAO structure for success.
DAOs are becoming mainstream in terms of exploring the future of work. Attention and energy are pouring in as DAOs work towards organising vibrant communities online. But for each individual DAO, and for DAOs as an ecosystem, it is imperative that they shape the conceptual foundations in a way that this energy is harnessed for good, rather than dissipating away. We at RnDAO believe that it is critical for DAO builders to have a strong understanding and access to a rich body of knowledge to enable them to build successful DAOs. It is also important that DAO building is approached as a discipline, with its validated set of frameworks and principles. This was the genesis of RnDAO's investment into building DAO Blocks.
Team members
• Paulo Fonseca – Design
• Ray Kanani – Product
• Walter Karshat – Tech
• Sandeep Das – Business Strategy
• Daniel Ospina – DAO Governance
Contact
• Contact Name: Paulo Fonseca
• Contact Email: paulo@upper.is
• Website: https://twitter.com/rndao__?lang=en, https://rndao.mirror.xyz/
Legal Structure
• Registered Address: NA
• Registered Legal Entity: NA
Team's experience
• Paulo Fonseca – Design
13 years of experience as a UX Design Leader designing teams and delivering special projects for a diverse set of organizations such as OutSystems, McKinsey, Credit Agricole, Capgemini, Vodafone, and others; startup strategy and product advisor to teams that have been acquired by Google and Autodesk; design teacher and mentor across several institutions and advisor to The New Digital School, an experimental physical school for career-changers; Volunteer organizer of the Designing Designers community for the last 6 years
• Ray Kanani – Product
Ex-VP Product at Fortive with 12 years of experience building product and design teams for high growth centralized organizations; currently building a Trauma Informed Design Studio humxn.studio and stewarding humane vibez within RnDAO; Interested in org design and how to sustain gentle spaces for deep collaboration and creativity
• Sandeep Das – Business Strategy
Brand & Growth strategy consultant with close to 2 decades of experience working with global brands like Mondelez, Danone, Ferrero and Reckitt, and also with strategic consultancies like McKinsey & Co, Prophet, Kantar Consulting and Interbrand; Started his web3 journey in 2022 focusing on research, branding, marketing and business development. In addition to being a core team member at RnDAO, also a marketing role holder in BanklessDAO
• Daniel Ospina – DAO Governance
Ex-head of Governance at Aragon and advisor and contributor on DAO design and governance to multiple DAOs since 2018; 8 years organisation design facilitator and innovation management consultant, clients including BCG, Google, The UNDP, Daimler, and numerous startups; Visiting lecturer at Oxford University, Tedx Speaker, Harvard Business Review published author, member of the Royal Society for the Arts, Manufacturing, and Industry
Team LinkedIn Profiles
https://www.linkedin.com/in/paulofonseca1987/
https://www.linkedin.com/in/raykanani/
https://www.linkedin.com/in/wkarshat/
https://www.linkedin.com/in/sandeepdas1/
https://www.linkedin.com/in/conductal/
Project Description
It is important to first encapsulate the value of DAO Blocks Framework for any new and existing DAO building community, and for the whole DAO ecosystem. Our aim with the DAO Blocks framework is to collect the ingredients (the effective structures and concepts) and craft recipes for new and existing DAO leaders to work with (either following the several recipes or gathering inspiration to create their own version). This helpful tool will enable each DAO to assess its own structure today and move towards a more effective structure tomorrow.
Like the Business Model Canvas has done for Web2 startups, DAO Blocks will help build the strength of the ecosystem, reduce wasted energy, and increase the proportion of successful DAOs. For now, we are calling these "ingredients" DAO Blocks, and the way they come together, the DAO Blocks Framework.
Since building a DAO is an ongoing effort, and DAOs go through several stages of their own in their development, the DAO Blocks framework should be able to map and assess the current shape of a DAO, and after that, it should also allow to plan the future iterations of said DAO.
As DAOs are formed by individuals or teams comprised of individuals, it is but natural that different views will exist on where a DAO is and where it should go. The DAO Blocks Framework provides a way to bring together these different views, provides clarity, offers a path to reconcile them, thereby outlining how a DAO should be shaped going forward.
The DAO Blocks Framework enables builders to do three important things:
• Uncover current perceptions about the DAO – For both new and existing DAOs, and for communities embarking on a journey to become a DAO
• Track the progress of the DAO as it evolves through several iterations
• Harness the energy of the members effectively in shaping the DAO going forward
How does the DAO blocks Framework work?
The DAO Blocks Framework assesses DAOs on 4 key aspects:
• Mission
• Value Flows
• Membership
• Operations
For each aspect, there are a set of core questions, which a selection of DAO members / contributors can answer to uncover how the DAO is performing on each of the 4 aspects. Post that, there is a collaborative process to bring together the different answers and get clarity on the status of the DAO (or a community before it embarks on the first step to become a DAO).
Deliverables
Total Estimated Duration: 16 weeks
FTE: 40 days
Total Costs: $30,000
Milestones
We have defined 3 Milestones for this project:
• Achieve framework conceptual stability
• Release the open-source software tool
• Adding sample blocks content that DAO builders & managers can use as reference
To make sure and validate that the framework is stable across different types of DAOs, we need to test and evolve it first, before we are sure that a software tool can be designed that encapsulates the principles of the framework and which can be shared with the larger community.
The details of each milestone, in terms of what we would be doing, and the funding request breakdown is as follows: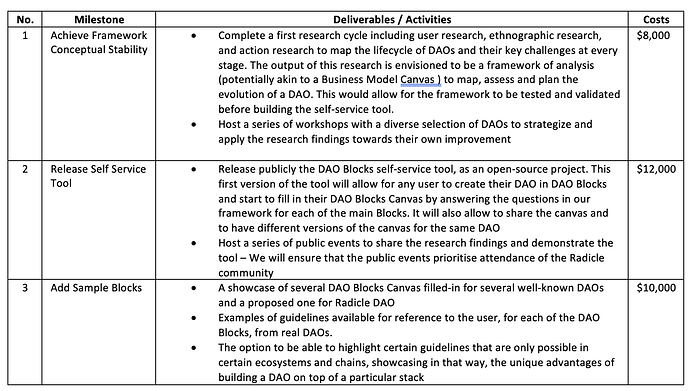 What have we already done
RnDAO has already published two pieces of extensive research relating to DAO Blocks:
"What is a DAO? Conceptual Foundations", which leveraged the existing body of research on coordination in organisations to frame a conceptual foundation of DAOs (What is a DAO? Conceptual Foundations — RnDAO)
"Why and how we SubDAO", which is a research project in partnership with Sobol, which aimed to understand how DAOs structure themselves into smaller units
(https://rndao.mirror.xyz/gNwffffROGdAp1tEBhkRPEL8OAQqvUOlV5HuM9VBaoM)