Hi Radicles! Here's our update for February

:
Community Updates
In light of our pending transition to the DAO, we'll be changing up our Community Calls. Instead of doing a monthly community call featuring updates from all Core Teams, we will transition to a quarterly DAO Community Call, that features updates from all Orgs. The goal of this quarterly call is to be a checkpoint between the DAO and its Orgs, while giving the RadicleDAO community a look into what's happening in the ecosystem.

This call will happen at the end of every quarter (last week of March, June, September, and December [before holidays]). The first quarterly call will be held on March 29th, in replacement of our monthly community call.
Every Org will be required to present an update on the quarterly call and share a written update to community.radworks.org. This quarterly call will also feature DAO-wide governance updates.
Orgs can choose to host their own monthly community calls moving forward.

Last week 15 contributors came together on Tenerife for our first offsite of 2023. (scroll to the. bottom for photos!) The aim was to help everyone feel more connected as a team, bond and become more aligned and inspired around the aims of the project.
Highlights definitely included:

The oral history of Radicle straight from Cloudhead and Ele, and Angie's expert timeline of the key milestones and achievements since it's inception.
Team updates on their current work
Discussing the motivations around the new brand strategy
Boat trip to see dolphins and watch whales, kayaking trip, stargazing and wine tasting
A really positive feedback and gratification session highlighted that the community really values each other and this was a great note to end on!

We are thinking about the future of offsites and all agreed that there should be team specific offsites for more in-depth work and discussions and that the cadence for an all contributor retreat, not attached to another conference such as Tenerife should probably be once a year. We can't wait for the next one, and hope to have even more contributors join us next time!

We're currently in ETHDenver as Drips! Contributors attending are: Abbey, Andrew, Lucas, Sean, Shelby and Becca. Andrew, Shelby and Becca are currently wrapping up at Gitcoin Gathering. Shelby will speak on a panel Wednesday afternoon about governance design! Andrew and Abbey will both speak at Schelling point on Thursday. The talks aren't being streamed but will be recorded and available to view hopefully next week. Andrew will also be part of a panel with Ceramic and Gitcoin at EthDenver over the weekend and Shelby will be hosting an intimate 'Governance Geeks Gathering' on Saturday.
Governance Updates
The last Governance Call was held on January 11th. The recording and relavant links from the call can be found here. We decided to skip the February Governance Call in order to maximize our time and efforts to finalize bigger projects relating to governance updates & the DAO transition. The next Monthly Governance Call will take place on March 8th at 5PM CET. Call details coming soon to Discord!
The [Discussion] Governance Improvements Proposal was finally posted last week. It proposes updates to the current governance process and coordination. This includes everything from clearer proposal labeling, proposal types with corresponding templates, clearer voting cycles/scheduling, and the creation of a version-controlled Governance Manual and a formal process to update it. I briefly discussed some of these updates in the last Governance Call.
Apiary is in the process analyzing and digest feedback collected during stakeholder interviews to defining the purpose, vision, & values of the Radicle ecosystem. This will then be used to guide the evaluation of how membership and both meta & treasury governance should be adjusted to better align with stakeholder. Their evaluation will be extremely valuable for governance work considerations moving into 2023. They will share their findings on the forum once complete.
Governance Proposals
There are currently no new governance proposals or updates to share on recently passed proposals.
Formal Review
There are currently no new governance proposals or updates to share on recently passed proposals in the Formal Review phase of governance.
Discussions
[Discussion] Governance Improvements Proposal: It proposes updates to the current governance process and coordination. This proposal is currently in the Discussion phase of governance and will be moving to Formal Review either later this week or early next week. Please leave feedback on the proposal by Wednesday, Mar 1.
[Discussion] Deploy strategic cash on Enzyme: The Enzyme team is working on updating this proposal to reflect the current market. The updated proposal will be posted in the Discussions section on the forum.
Temperature Checks
There are currently no new proposals or updates to share on recent proposals in the Temperature Check phase of governance.
Transition to the DAO Updates
Org Design Workstream
Org Design Workstream: The major update for this workstream is the hard shift in DAO branding and Org planning. The Evolution of Radicle's Orgs post explains how instead of moving forward with instantiating a Core Development Org that encompasses all Core Teams, we will support the Radicle and Drips decision to spin-out into their own independent Orgs as outlined in the Evolution of Radicle's Brand(s) post. By allowing the two teams to drive two separate value propositions, they will have more autonomy over their development goals and strategy, which in turn will create a more conducive environment (e.g. faster decision-making, better focus, more organizational clarity etc…) for building towards product-market fit.

We propose that the rest of contributors stay within the Radicle Foundation, as part of the emerging Foundation Org. Within the Foundation Org, these contributors will be organized under their domain (e.g. Marketing, Community, Operations). Once these teams are mature enough to operate independently as an Org, the Foundation will support their "transition to the DAO", similar to Radicle and Drips. Please read the post for further detail and join the discussion around this shift there.
DAO Tooling
We are currently rethinking how the shift in Org Design impacts the tools we were planning to use.
2023 Contributor Offsite Photos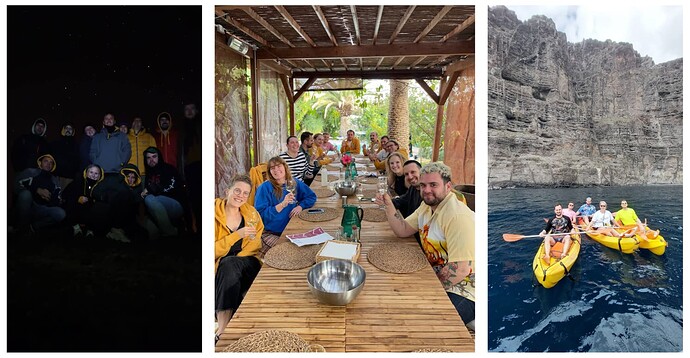 That's all we have for this month! Stay Radicle!

Yours truly - Shelby, Abbey & Becca